Classic Cars Rentals in Cuba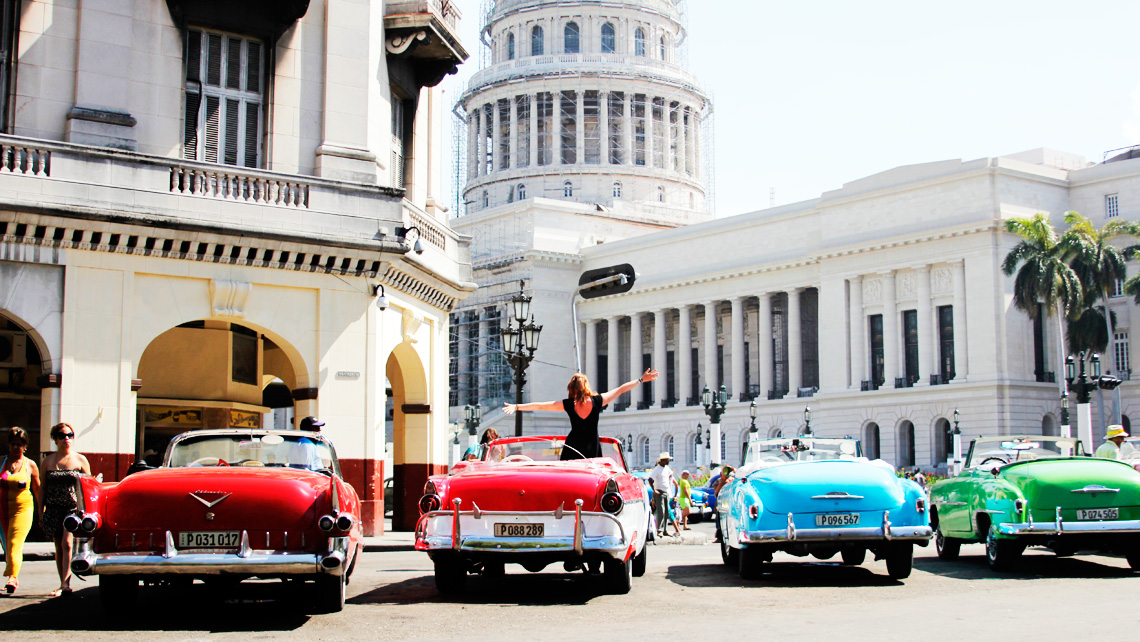 You're in Havana and the urge takes you on a tour of it in a short time, before you focus on some whim or go to the beach they've told you so much about.
However, you want to cover as much space as possible and visual targets that define your experience with "I was there" or "I photographed it and followed it through", to make it less important.
Perhaps, in one movement you could visit history and modernity, as you have been told.
Taxis are scarce, you look for a car rental, and in the surroundings of the Capitol, a magnificent and impressive construction that you did not expect to find in Cuba, you see a line of luxurious and colorful cars, like out of a museum, that peacefully and confidently wait for their passengers.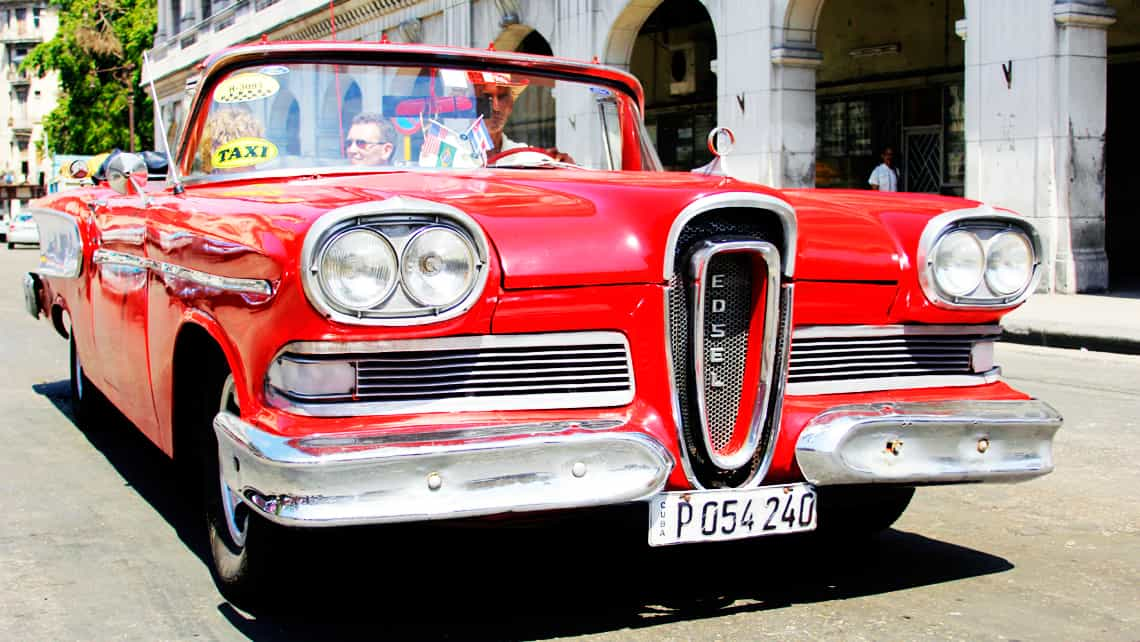 You only look at one as a case study, the closest one, and then ask if it is available, and the driver who is also usually the owner, tells you "Of course".
He warns you that you are from Spain, because of the pronunciation, and as if it were a marathon joke he starts guessing regions and provinces until you spit at him with the name of your town or the name of your neighborhood in the city, to end the interrogation.
You ask the price or risk haggling, but invariably a tour, depending on the length, costs between 20 and 40 CUC (between 18 and 36 Euros).
You tell him the places that cannot be missed or you simply let yourself be carried away in a convertible in which you think you have seen Marilyn Monroe, which you have only seen in old films, almost all of them in black and white, or in exclusive and rare exhibitions.
The driver, proud but used to his leading role, tells you it's a 1956 Ford Thunderbird, and you're amazed.
---
Diversity brands and models of classic car rentals in Cuba

Although it may seem implausible, thousands of cars similar in age and manufacture circulate in Cuban cities every day, in taxi rides called "almendrones" (almond trees), rentals, family rides or in ostentatious poses to impress the girls.
As they go down the Prado at a moderate speed and meet the sea, where the breeze affects you and you decide to put on your sunglasses, in search of Paseo Avenue to go up to the Plaza de la Revolución, they come across dozens of American cars from the 1940s and 1950s, rolling as if nothing had happened, as if time had stopped in the scenes of old Hollywood.
Since you have some references and you like cars, you quickly identify a 1957 Chevrolet Bel Air; you saw it in a magazine. Then, as if they wanted to torture you, Buick, Oldsmobile, Pontiac, Mercury, Dodge, Desoto, Plymouth, Packard, Cadillac, Plymouth, Studebaker, Willy Jeep, Chrysler, even an English MG and an Italian Alfa Romeo. What's going on here?
---
Cuba and United States

The close political and commercial relationship and dependence between Cuba and the United States during the first six decades of the 20th century, especially with the opening of business offices in Havana, allowed and facilitated the constant and massive importation of these cars, as a symbol of prosperity and social positioning at that time.
After the nationalization of several companies and the rupture of relations as a result of the 1959 revolution, and the subsequent imposition of the famous embargo, cars stopped arriving.
It is fair to say that in the following years, a few arrived through the Latin American subsidiaries of these brands.
From that moment on, owners held on to their cars of proven quality and prestige, as a beloved and essential treasure for transportation and recreation.
---
To keep them running, most had to make modifications and encourage the creativity of the mechanics and engineers.
Several of them are driving in spite of the heavy loads, with engines and parts from other cars, especially almendrones that make fixed routes back and forth.
But there are others that have been able to be preserved in their entirety, including the interior upholstery, due to the quality of manufacture and the extreme care of their owners.
That's why a group of owners and motoring lovers got together in 2003 to found the "A lo cubano" Classic and Antique Car Racing Team.
Witnessing their parades, activities and meetings is an extraordinary, picturesque and fantastic event, which summarizes and enhances the active history of the car in Cuba, since its first entry in 1998, and says a lot about the character of good criollos.
Their gleaming metal and rubber copies are capable of impressing the most demanding, and also of surprising them.
---
Buy a car in Cuba

For a moment it was thought that the preponderance of "almendrones" would disappear with the approval of a law of free purchase and import of new or used cars (since they are not manufactured in Cuba), but the prices were born impossible for the immense majority of Cubans, in any of the variants.
What used to be done on the black market with tricky and unsafe solutions, now allows citizens or foreign residents to purchase agency cars produced several years ago, from the Peugeot, Hyundai or Suzuki brands, for example, and in small numbers, in exchange for stratospheric amounts of tens of thousands of Cuban Convertible Pesos.
As can be inferred from previous data, one CUC is equivalent to a little less than one Euro, when the average monthly salary earned by workers in current Cuban pesos is around 20 CUC (One CUC is equivalent to 25 Cuban pesos, the national currency).
---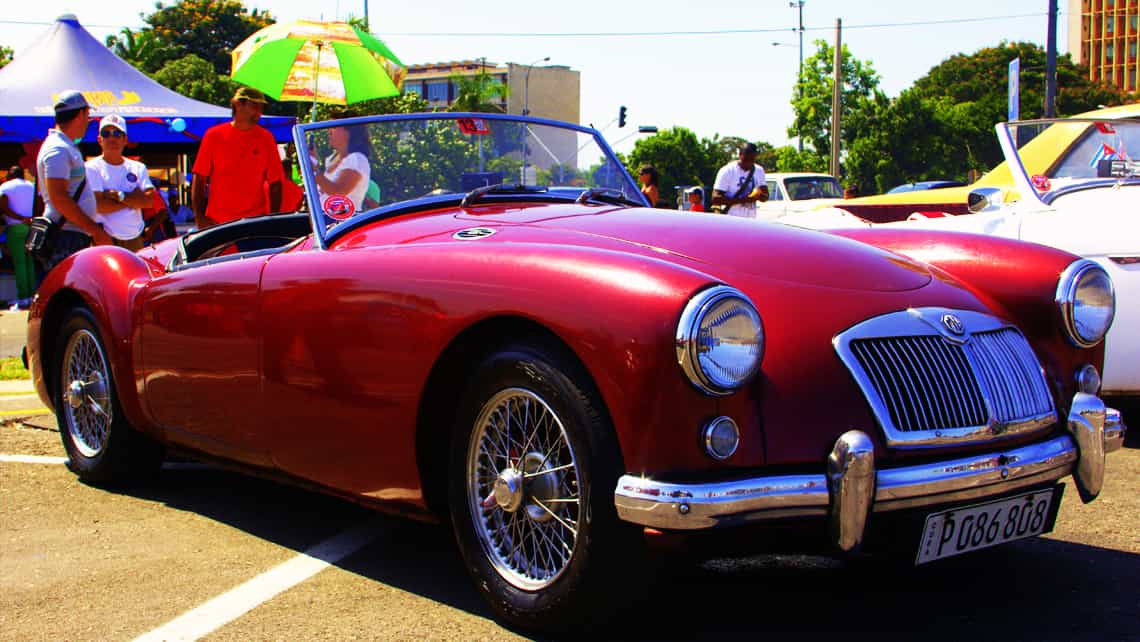 However, used cars from owner to owner run with a little more luck.
To give you an idea, a car from the former Soviet Union (the source of most imported cars since 1959) of the Moskovich and Lada brands can be sold for three to 12 thousand CUC, with security for spare parts thanks to local ingenuity.
A classic American car, on the other hand, especially if it will serve as a taxi or rental service for tourists, is balanced between 6,000 and 12,000 CUC (depending on the fuel it uses: gasoline or diesel, which is cheaper and more accessible).
But of the latter, those that retain the original chassis and engine, mainly the convertibles, can go up to a respectable 80,000 CUC.
Therefore, Cubans who are "lucky" to own a private car and to be able to maintain it due to high prices for fuel, parts, tires and repairs, exercise all the pressure and expertise to make them profitable.
---
From classic cars rentals in Cuba into icons for travelers
Evidently, and for several decades, the lightest way to use a car permanently and at minimum cost, is through a public official position or a managerial position in companies and state institutions that subsidize it with their budgets.
In Cuba, the vintage car category has found a higher rung. During the last 30 years, the tourist image of the Caribbean island has inserted with unquestionable motivational success the figure of the American classic cars in its advertising pieces.
Today, it is inconceivable to return from there without one of these cars in our photos.
Cuba seems to be totally frozen in time…
Discover all this jewels with us! Meet our Classic Cars Rentals in Cuba!